While Apple introduced the new iMac last month, Apple only started shipping the new 21.5-inch iMac today (and won't start shipping the new 27-inch iMac until next month). The new iMacs, along with a redesigned body, feature Intel's new Ivy Bridge processors. How do these new processors perform compared to the Sandy Bridge processors found in the previous-generation iMac? How does the new iMac perform compared to Apple's other desktop computers?
To answer these questions I've charted Geekbench results gathered from the Geekbench Browser for the following Macs: iMac (Late 2012), iMac (Mid 2011), Mac mini (Late 2012), Mac Pro (Mid 2012), and Mac Pro (Mid 2010).
If you're not familiar with Geekbench, it's a cross-platform benchmark that measures processor and memory performance. Higher scores are better, where double the score means double the performance. You can download Geekbench and use it to find out how your computer compares against the Macs in this article.
iMac Performance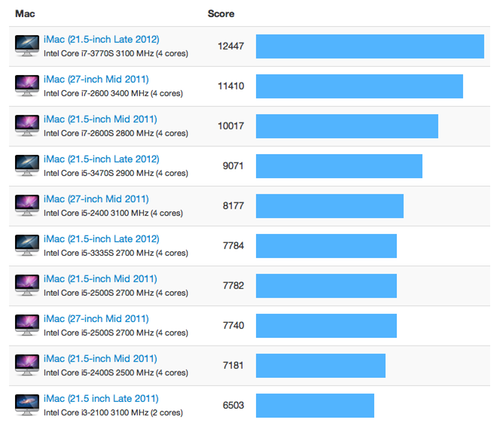 The benefits of the new Ivy Bridge processors are clear; the new high-end 21.5-inch iMac is almost 10% faster than the old high-end 27-inch iMac. The new mid-range and low-end iMacs show similar improvements as well.
iMac and Mac mini Performance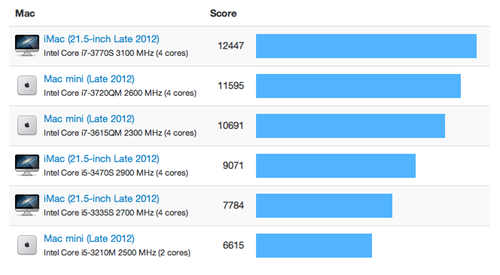 Both the iMac and the Mac mini use Ivy Bridge processors, so neither Mac has an architectural advantage over the other. What's interesting here, though, is how the quad-core Core i5 iMacs perform compared to the quad-core Core i7 Mac minis. Since Core i7 has hyper-threading technology (and the Core i5 does not), it can execute more instructions at once, leading to higher performance.
Here this means that the mid-range Mac mini is faster than the mid-range iMac that's almost twice the price. True, you do get a display and a discrete GPU with the iMac, but these Geekbench results show how powerful the new Mac mini is despite its size.
iMac and Mac Pro Performance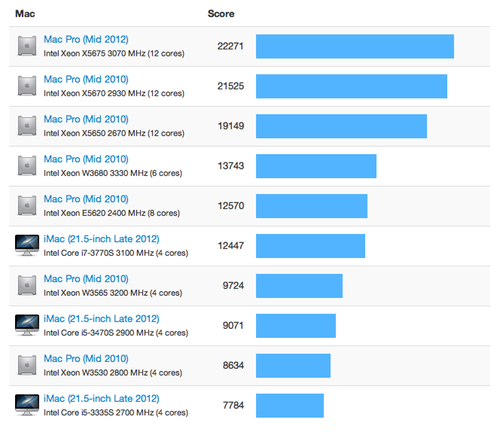 Since Apple hasn't meaningfully updated the Mac Pro since 2010, the Mac Pro is stuck with the older and outdated Westmere and Nehalem processors. This handicaps its performance to a point where the new iMac is faster than some of the current Mac Pros. In fact, only the 12-core Mac Pros really distinguish themselves from the new iMacs (both in performance and in price).
Final Thoughts
The new 21.5-inch iMac isn't a bad upgrade (at least from a performance perspective). Intel's Ivy Bridge processors give the new iMac a nice boost over the previous-generation iMac, and help make it competitive with all but the high-end Mac Pro.
I'm still not sure, though, whether I'd choose a new iMac over a quad-core Mac mini (especially since I already own a nice display).