Now that 2012 is almost over I thought it would be interesting to look at all of the Macs released this year and see how they perform compared to one another. I've collected Geekbench results from the Mac Benchmark chart for all of the Macs that are currently available from Apple.
Not familiar with Geekbench? It's a cross-platform benchmark that measures processor and memory performance. Higher scores are better. Curious how your Mac compares (especially if you're wondering if it's time to upgrade)? Download Geekbench and find out how your Mac measures up to the Macs on this chart.
Mac Performance (2012 Models)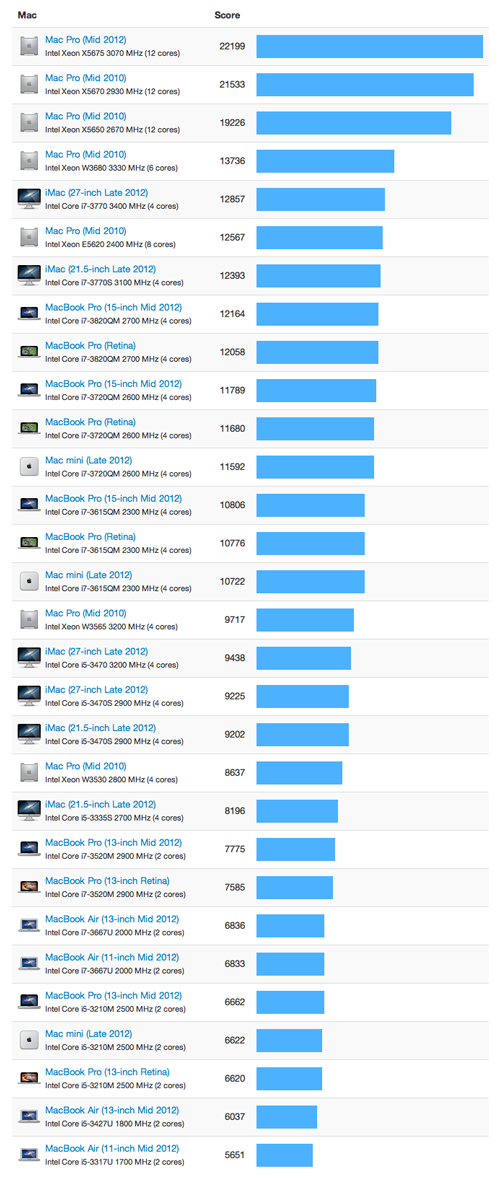 A few things from the chart stood out at me:
Even though the Mac Pro hasn't had a significant update in over two years, the 6- and 12-core Mac Pros are still the fastest Macs available. However, the Mac Pro processor architecture is starting to show its age. Both the 4-core and 8-core Mac Pros have been eclipsed by Apple's latest 4-core laptops and desktops.
There's only a minor performance difference between the quad-core Core i7 desktops and the quad-core Core i7 laptops. You no longer need a large Mac (or, for that matter, a desktop Mac) to have a fast Mac.
When the MacBook Air was introduced in 2008, many were concerned whether it was fast enough to get "real work" done. Now, while the low-end 11-inch MacBook Air is still the slowest Mac available, the high-end 11-inch and 13-inch MacBook Airs are competitive with the rest of Apple's portable lineup. Only the 15-inch MacBook Pros, with their quad-core processors, are significantly faster than the MacBook Air.
Both the mid- and high-end Mac minis are surprisingly fast for such small computers. It's now possible to buy a Mac that scores over 10,000 in Geekbench, uses less than 11W of power when idle.
While 2012 has been a good year for Mac performance, I'm excited to see what Apple has in store for 2013. I'm hoping that the Mac Pro rumors are true, and that we'll see new Mac Pros sometime next year. I'm also excited to see what Intel's new Haswell micro-architecture will bring to the Mac, both in terms of higher performance and lower power use.