Yesterday Apple announced two new Macs at WWDC: an all-new Mac Pro, and an updated MacBook Air. While the all-new Mac Pro isn't shipping until later this year, the new MacBook Air is available today and is already in peoples' hands. Results for the new MacBook Airs have started to appear in the Geekbench Browser.
Since Geekbench results are already available, we can find out how fast this year's MacBook Airs are compared to last year's MacBook Airs. I've gathered results from the Geekbench Browser for all five models and charted them below: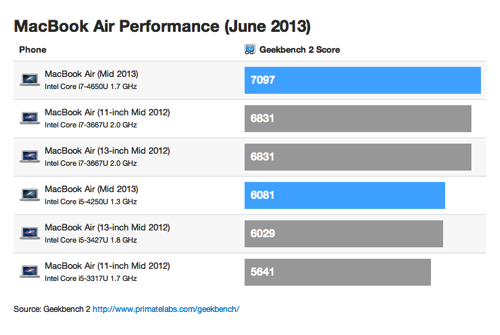 There's only a modest increase in performance between the 2013 MacBook Air and the 2012 MacBook Air. Depending on which models you compare, you can expect between a 3% and a 8% improvement in performance. However, last year's update brought between a 20% and a 25% improvement in performance. What's going on here?
The new MacBook Airs use Intel's new Haswell processors. With Haswell, Intel's focus was on reducing power usage. Rather than improve performance by 25%, Intel improved performance by 10% while consuming 25% less power.
Apple then went a step further. Apple reduced power usage even more by selecting processors with lower frequencies. In the low-end Air, the frequency has been reduced to 1.3 GHz from 1.7 GHz, while in the high-end Air, the frequency has been reduced to 1.7 GHz from 2.0 GHz.
Focusing on power usage instead of just focusing on processor performance leads to a massive increase in battery life for the new MacBook Airs. Apple claims that the new 11-inch MacBook Air has an 80% increase in battery life, while the new 13-inch MacBook Air has a 70% increase in battery life.
While it would've been nice to see a new MacBook Air that was 20% faster, when you consider the market the MacBook Air serves, I think almost doubling battery life is even nicer.