After going on sale unexpectedly yesterday morning, the iPad mini with Retina display has started to appear on the Geekbench Browser. While the new iPad mini is already included on our iOS benchmark chart, I wanted to take a closer look at how the new iPad mini performs compared to other iPads, both past and current.
Both charts were generated using Geekbench 3 results from the Geekbench Browser. If you're not familiar with Geekbench 3, higher scores are better, where double the score means double the performance.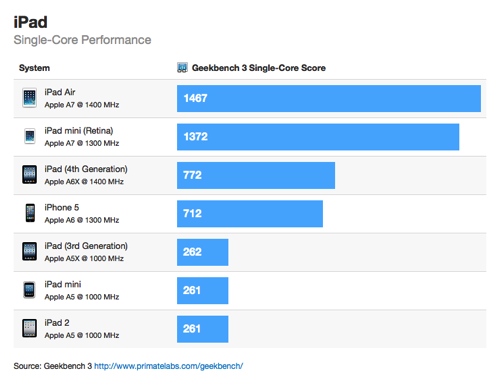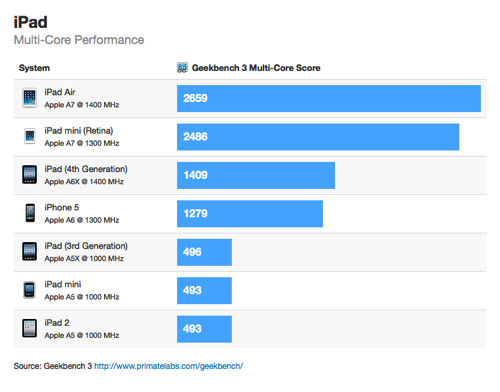 Geekbench 3 confirms that the new iPad mini processor runs at 1.3 GHz (my original guess of 1.4 GHz was wrong). This is the same speed as the iPhone 5s processor, but 100 MHz slower than the iPad Air processor. I'm not sure why the new iPad mini processor is slower but I suspect it has to do with the mini's smaller battery (less power) or the mini's smaller chassis (less cooling). It's also not clear if the new iPad mini will throttle performance when overheating in a way similar to the iPad Air or the iPhone 5s.
The new iPad mini is substantially faster than the original iPad mini with an over 5x increase in performance. Given that the iPad mini has the same processor found in the iPhone 5s and the iPad Air, this isn't terribly surprising.
However, the new iPad mini is 7% slower than the Air in both single-core and multi-core tests. While the difference is significant, I don't think it's significant enough to warrant purchasing an Air instead of a mini for performance alone. Also, since I expect developers to still support the iPad 2 and the iPad mini for some time I don't expect much software will take advantage of the A7 processor to the point where that 7% difference will matter.